Hello zxrworld forum members,
This is my first topic on this forum about a rattle that is occuring in my zxr400.
I recently bought a ZXR400 from 1999, 35000km on the clock (22000 Miles). During the test drive and the ride home everything seemed allright, no weird sounds and no ticking and rattling. Then this week I took the machine for a spin when suddenly a rattle started occuring. The following aspects caught my eye:
- After a 25 minute ride on the highway (70 MPH) a severe rattle started between a surtain rev range.
- The rattle isn't present when the engine is cold.
- The rattle isn't audible at idle, only between 3.5k and 5k RPM's. Also before or after this rev range the rattle isn't noticible.
- Clutch in/out and selected gear isn't changing anything.
After some browsing on the forum the most obvious reason behind the rattling seemed to be either the cam chain or the cam chain tensioner. So I called up the local motorcycle workshop and explained the aspects above. To this he said; "it is not likely the cam chain, this part will just rattle at idle and will go away when some throttle is applied". So what else can it be?
Now I was a little bit confused. So i pulled away the "pulsar cover" (cover where the chain, tensioner, and ignition timing is located) and had a look.
This is where I was confronted with: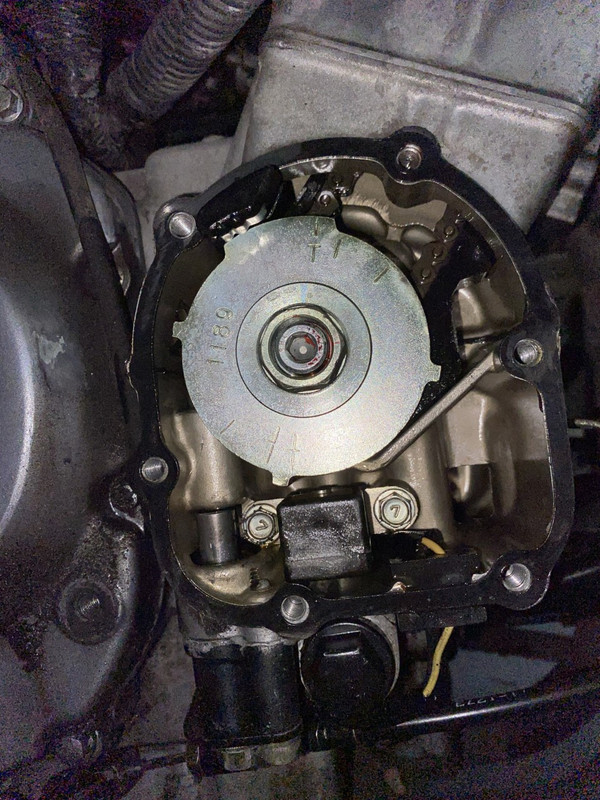 The tensioner is fully extended (and the tensioner rod is touching the casing??), this means the cam chain has worn out (is this normal with 20k miles??). Or do I need to look somewhere else that causes the tensioner to be fully extended?