Bought for £1,750 in '98 with 10½k(km) on the clock(which had been opened at some point
). Was quite a recent import - had only been in the UK a year or so.
The milage was almost feasible looking at the paint and parts(it'd obviously been garaged) but the consumables said that it'd done many more miles and more to the point had been wheelied for a good bit of it's life. The lower headrace was notched MX-style, all the wheel and swingarm bearings were gubbed and the cush drive pretty much told the story on it's own. I've done 40-odd-k on the replacement and it's still in better nick than the original was at first sight.
The engine was a peach though. Had a (very)slight mist from the gasket just above the engine number(that hasn't changed since) and the original exhaust was on it's way out.
Initial rebuild was new bearings all round, cleaned up the calipers, braided hoses up front and patched the exhaust. I gave it to Gill in Carlisle for an engine service who gave it back with a smile and a comment that he liked the lump and fancied having a proper footer with it sometime...
When I bought it it was in 2-up mode with a pillion seat and L model tailpieces. The seat was held on with a bungie though and there were no fittings or lock for it on the subframe. I'd figured that it'd maybe been stolen at some point and the mechanism trashed(like my last bike had) but after buying the manuals(H and L supplement) was getting a little confused. By sheer luck one of the previous owners happened to work with my dad and when he borrowed the bike one day the lad recognised it and mentioned he had the original tail unit back in his garage.
That was the first I knew it was an SP.
The next rebuild was a couple of years later. I was about to move house and wanted to spruce it up a little before leaving the workshop behind. Rebuilt/rechromed the forks, fitted a stainless Micron (which was instantly nicer than the original down at the 5-6k flatspot)...
...and gave it to Gill again to have a play with. When I got it back this time I think he'd raised the needles and retarded the exhaust port timing. The wee beastie had become more of a howler. The 5k flatspot was back but fuckit - who cares when the top end feels so sweet?
I also done a number on the all the electrical connections(cleaning and silicone greasing) and took a lot of things apart just to grease bolts that were still dry from the factory.
For the next chunk of the bike's life it was living outdoors and run year-round as a 50 mile-a-day commuter. I was living three flights up and carting tools up and down the stairs was a pain so maintenance suffered.
Couldn't tell you the milage it done over that time. Had a run of broken speedo cables(and was sold a couple of replacements that didn't fit - grrr!)....
....but when I took it off the road the camchain tensioner was at it's limit, so I'm guessing high 30k's(miles) or thereabouts.
Scottish winters aren't very kind and the bike was in a sorry state. Lots of furry alloy and shot paint. Pretty much all the consumables were consumed. The tank had been leaking(water-in) for a while and it had all sorts of other issues. The bodywork was a mess after some vandalism (don't own a green and white motorcycle in Glasgow
) and a light dunt off an armco barrier(oops). As I mentioned the camchain was sloppy and it'd been too way long since the engine had been fully serviced.
Then the saddest bit of the story. Stuck in my folk's barn and forgotton for nigh-on ten years.
Never does a bike much good.
So - on to the resurrection. It's been a kinda rolling rebuild, I got all the broken bit's fixed and a ton of stuff replaced a couple of years ago but have had it all apart again recently to work on the engine and clean up some bits and bobs.
...which is when I started taking the odd photo.
Fresh sidepanels and tank from ebay tidied things right up. I'll refurb the old tank at some point - no harm in having a spare.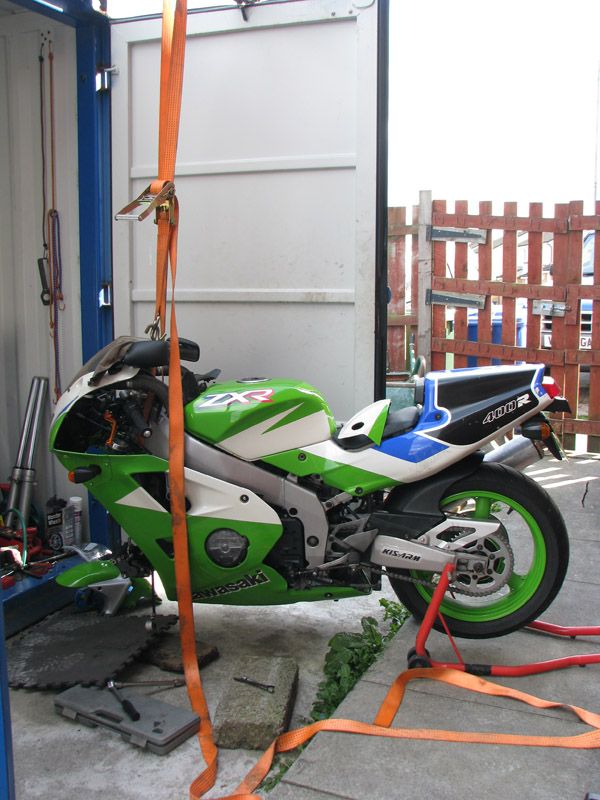 Was surprised the fork seals made it any distance at all after such a long lay-off. Bunged in a set of NOKs when they did go. Looked nice and chunky compared to the old ones.
(a pal joined the fun and replaced a leaky seal on his FZR400 at the same time)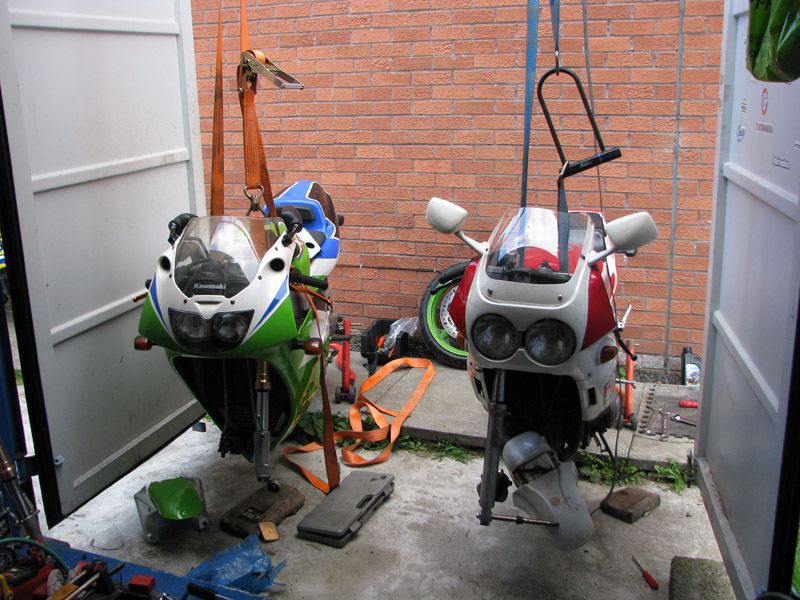 Aww, poor wee thing.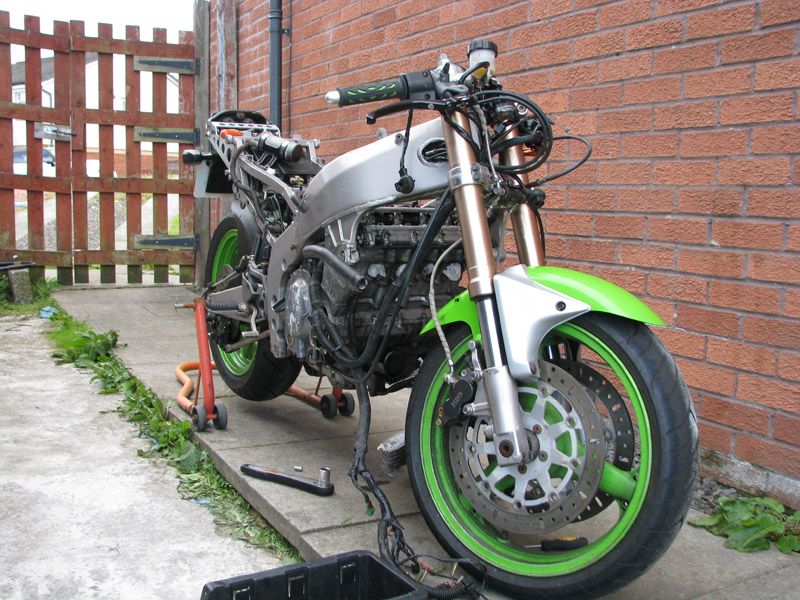 Exhaust was showing it's age and the blown sump gasket hadn't done it's looks any favours either. Hauled it all to bits and went at with rotary wire brushes for the best part of day. Reassembled it later with HT silicone sealant and fresh gaskets.
I'm sure this's a familiar looking pile of bits to folk around here. All the steelwork was rusty - a fresh coat of paint was long overdue.
...and there's more.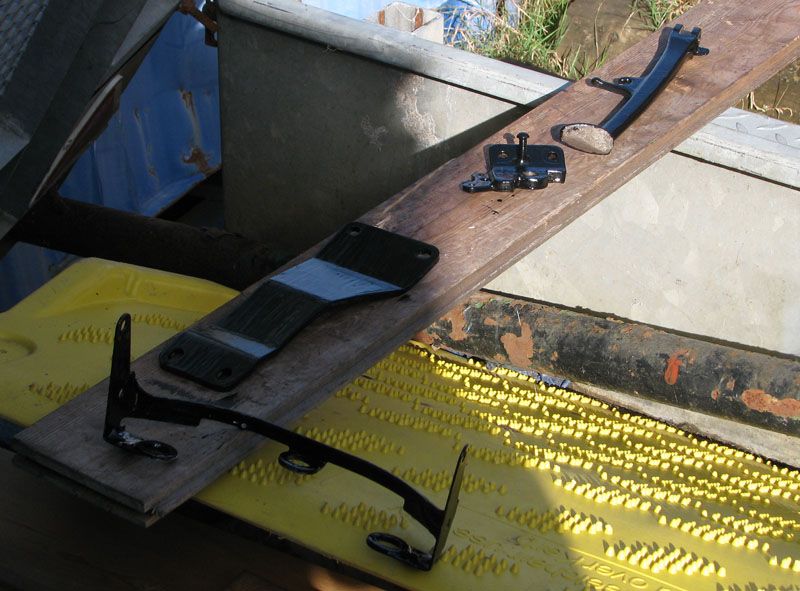 Was my first time doing the clearances myself(Jay in Stirling had done the last few services). While I'd already lifted the cams once to change the chain it was nice not to have to pop them again. Those spring-loaded rocker arms are a very nice little engineering touch indeed. You gotta wonder why everybody doesn't use them.
Gaps were all over the place - tight inlets and slack exhausts. Splashed out on a few in-between shims to get everything nicely balanced again.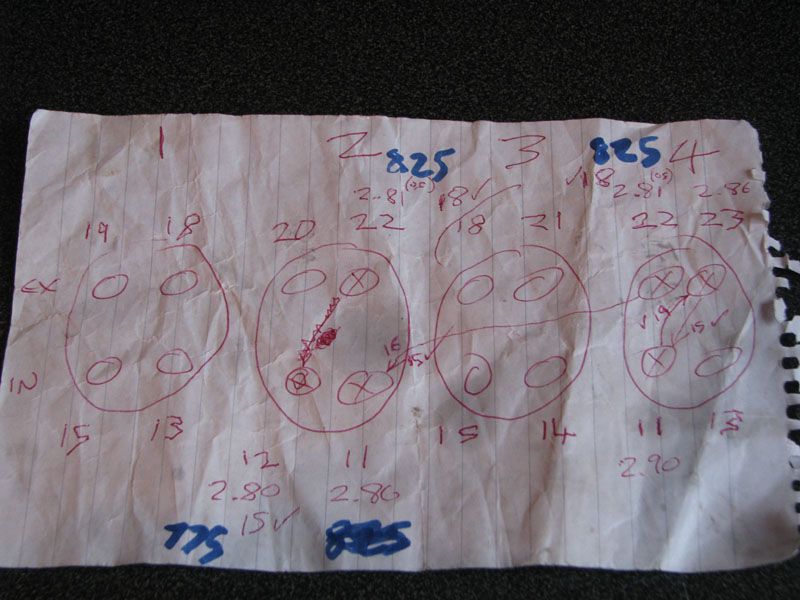 Also first time balancing the carbs. Shiny new Carbtune guages (and the splitter affair that I made to check that the guages themselves were balanced).
Butchered an old screwdriver to suit the footery fuel screw position(it's been running a bawhair lean at tickover since last year's rebuild).
...and that's where I am just now. If the weather's decent I'll get up in the next few days to do the actual balancing. At least while I was replacing orings and a broken needle last year I got a good look at how the fcr's work. Gonna be a pain compared to CVs but such is life - expecting this first time to take a while but also expect it'll become straightforward enough after that.
Was having intermittent problems with the de-restrictor. Unwound the black tape it was wrapped in to find the board was only encased in a cardboard box under it all and everything was getting damp.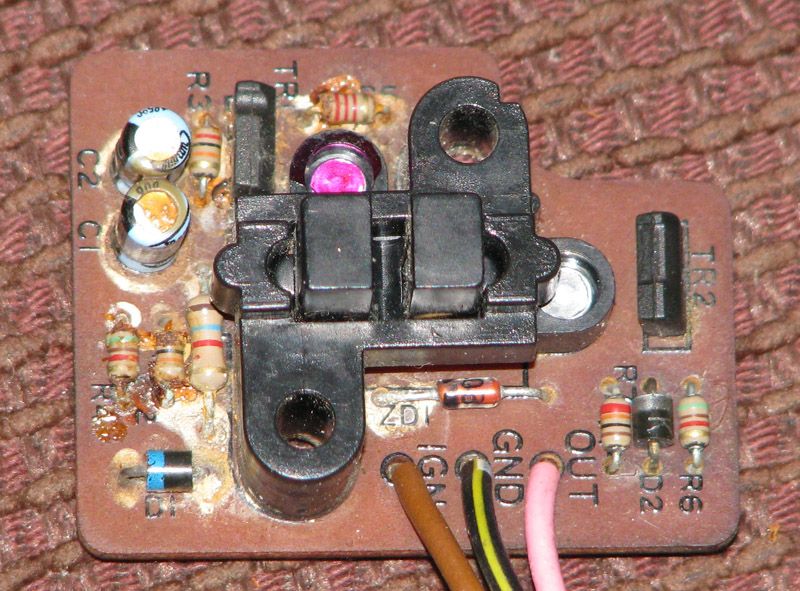 Will probably have a go at getting it working again but for the moment have just knocked up a resistor mod affair. Used a wire wound res and a fair bit of heatshrink sheathing - cabletied it under the clocks out of sight.
Fitted a Brembo RCS19. Reckon that's the last part of the brake upgrade saga that started the day I bought the bike.
At that time the brakes were awful. Fitting braided hoses with fresh fluid, cleaning the pistons and going to HH sinstered pads didn't really give the dramatic improvement that it had on other bikes in the past.
I mean - they weren't awful anymore - but they weren't nearly as good as the Guzzi/ZX9/900 or thou' blades/Fazer....
...basically all my friends and my dad's bikes had noticably better brakes and it kinda pissed me off. The wee ZXR was lighter after all, I always felt I should be able to stand it on it's nose effortlessly if I wanted to.
At one point I stuck on one of those R1/R6 Brembo radial master cylinders. That felt nice and gave more feedback that the original but of course didn't make the blindest bit of difference to the stopping power. It wasn't 'till I was buying fresh pads one day that the penny finally dropped.
The lad in the shop came back to the counter with two sets saying "Is it those or those?"
"It's those - but hang about - the H model pads are 1½ times the area?"
So I picked up a set of old calipers. They're from a J model(27 and 30mm pistons) but take the H pads. Fitted them and straight away was much happier.
Was perfect timing really. Had just stuck new disks on so there was no lip to maybe interfere with the bigger pads.
Unfortunately the lever was now a bit soft for my liking. Usable but if the pads got kicked back it took a fair old pump to push them out again...
...hence the RCS19. Well chuffed with the setup now.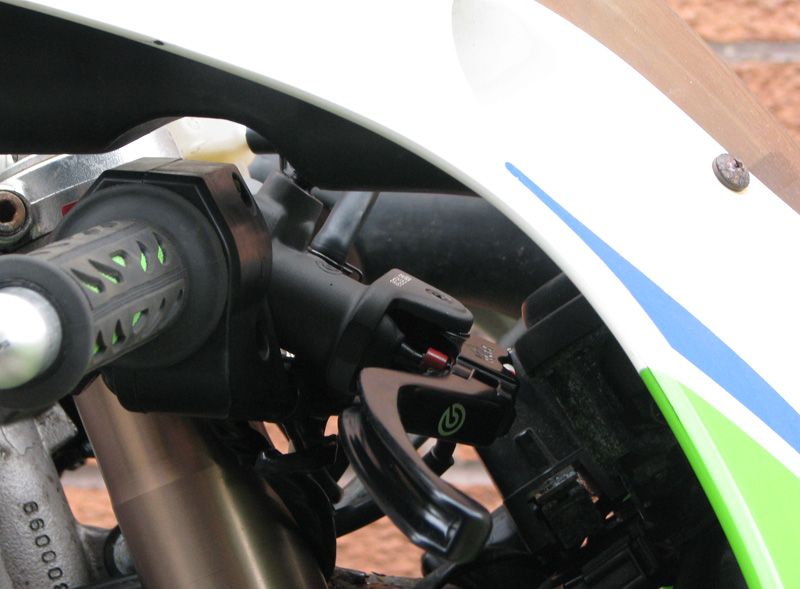 Another problem I'd had since day 1 were the lugs on the radiator/oil cooler. Perhaps it was all the wheelying in it's younger life but they were always weak and ready to crumble. Made up a wee bracket years ago for the cooler but after it's time in the barn the rad mounts were all falling to bits now too.
...so last week I knocked up a wee subframe/cradle. Liberal sprinklings of wondertape(pet name for bitumen adhesive rubber cladding tape(goes round cast watermains for frost protection)) means there's no metal-metal contact.
Partly it's to get a few miles out of the old rad&cooler(which were fine bar the bracketry) but also I was looking a little to the future. The rad on one pal's GSXR thou'(K4) and another's ZX7R both look about the right size and can be had new(aftermarket) for about a third of the price of getting my old one re-cored.
Was also eyeing up the oil cooler on a newer GSXR one day. Didn't measure it but it didn't look a million miles off(was a triangular affair that ran right down to the bottom of the fairing gap).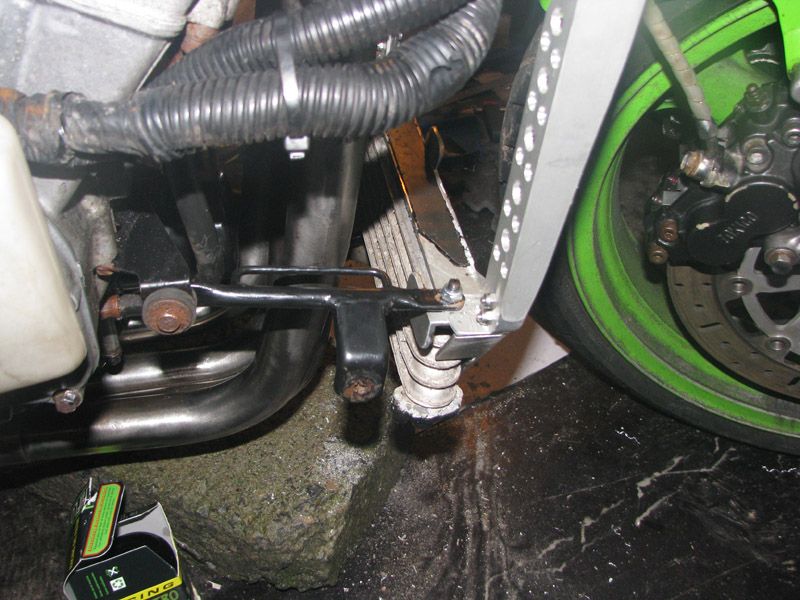 Anyhow, having the subframe there should make that kind of pick-and-mix easy if I choose to go that way. Will only involve tweaking it to suit the new units.
While I was painting the clock bracket(and changing all the instrument bulbs - and putting on a fresh rubber speedo surround - and replacing a couple of the clock mounting grommets
) I thought I'd do something about the kph speedo.
When I bought the bike there was an orange stick-on mph overlay on the glass and to be honest I never thought about it for a moment in all those years.
UV had faded the numbers white though so these days it wasn't as easy to distinguish them from the kph numbers beneath...
...so I popped the speedo apart and sanded the old paint off the face then slapped on a packing label printed with an mph face that I drew up in autocad. Isn't perfect but is much neater that before.
The counters are still in km but that doesn't matter, only use the trip to keep an eye on fuel and the number on the odometer is fantasy anyway.
Jeez, that post ended up longer that I thought it would.
But then everything about getting this bike back on the road has taken longer that I thought it would.
Josh