so i put the h1 on the dyno this morning and first run the computer on the dyno locked up, second run the bike got what sounded like clutch slip at the top end of the rev range, and the third run it managed 67.92 at the wheel tried for another run but as the bike is total loss and the battery was dying there wasnt enough electric left in the small lifepo battery.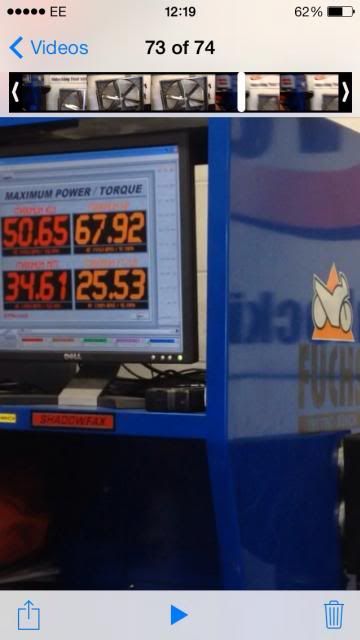 the spec is as follows
l9 motor
0.5mm skim
no base gasket
unshrouded valves
very light head work. casting marks and steps cleaned up, no material taken out from anywhere.
sp inlet 105
standard exhaust cam .
1208 rods
blue springs
micron headers mated to an r1 50mm link pipe
mark hill can.
32mm cvk's 102mains n77r needles
standard airbox,
inlet rubbers matched
standard inlet trumpets lightly opened up from the shrinkage that these seem to suffer from
advanced ignition (by slotting the pickup)
bit dissapointed with the torque figure should this be higher? or is it because its only a 400?